I arrived at Vito Cruz, Taft Avenue'round five o'clock in the afternoon and went about asking a random vendor where Pinoy Grill was located. I was really surprised when they told me that it was located on the second floor of the D'students Place in front of De Lasalle University in Taft Avenue, pointing the sign board of Pinoy Masters Grill hanging just above the building. The reason was that I am very much familiar with the place because I occasionally go to D'Students Place, particularly at Ongkeko's Hobby Shop which was located on the same floor. OHS is a place where I sometimes go to just to play Magic: The Gathering.
Moving forward, I went upstairs and looked for it and found the place. I found it just a few steps away from the hobby shop. Just walk straight along the hallway and you will find it just before the internet café at the far end of the hall. At first, I was surprised to see that there were not much guests-bloggers-in the place except for the regular customers. And for a moment, it made me think if I am at the wrong branch. Never the less, I decided to go to hang out at OHS while waiting for Liz and her friend Rhona, who are both bloggers, arrive. The truth is that they were really the ones invited. I just happen to have my girlfriend's camera at home so I ended up being the errand boy for her as well as a last minute addition.
It was around six or so when I decided to check out the place again to see if there are other bloggers at the place but I saw none. I was about to go back to OHS when this lady who was sitting in one of the tables just outside the establishment asked me if I was looking for someone. I explained my situation and discovered that she was the one representing the contact person of Liz and Rhona. She explained that they were only expecting three bloggers to arrive as advised by their boss, Omar. And I was like "Three bloggers?" I had the impression that there were others coming or like there's a party that'll take place but apparently, the big event is scheduled to take place sometime late October, after the Pinoy Masters Grill Lagro branch officially opens. The lady introduced herself as Lisa and invited me to go inside. Though I initially humbly refused to go in since Liz and Rhona have not yet arrived, I eventually concur and went in.
The place was comfy and was ventilated by wall fans as well as one air-conditioning unit which I appreciate since I easily get cold. It has enough space to accommodate around twenty customers or so. You can see the staff diligently attending to the other customers needs and in fact, they take the initiative to re-fill the iced tea drinks of the customers as well as serving them with extra rice. And I can say that they also make it a point that every table is clean and the condiments are in place. The walls have a soft color theme of blue and yellow stripes. They even have a motivational board set up on one side of the dining place. Furthermore, they already have decorations set up in the establishment in preparation for the coming Halloween season.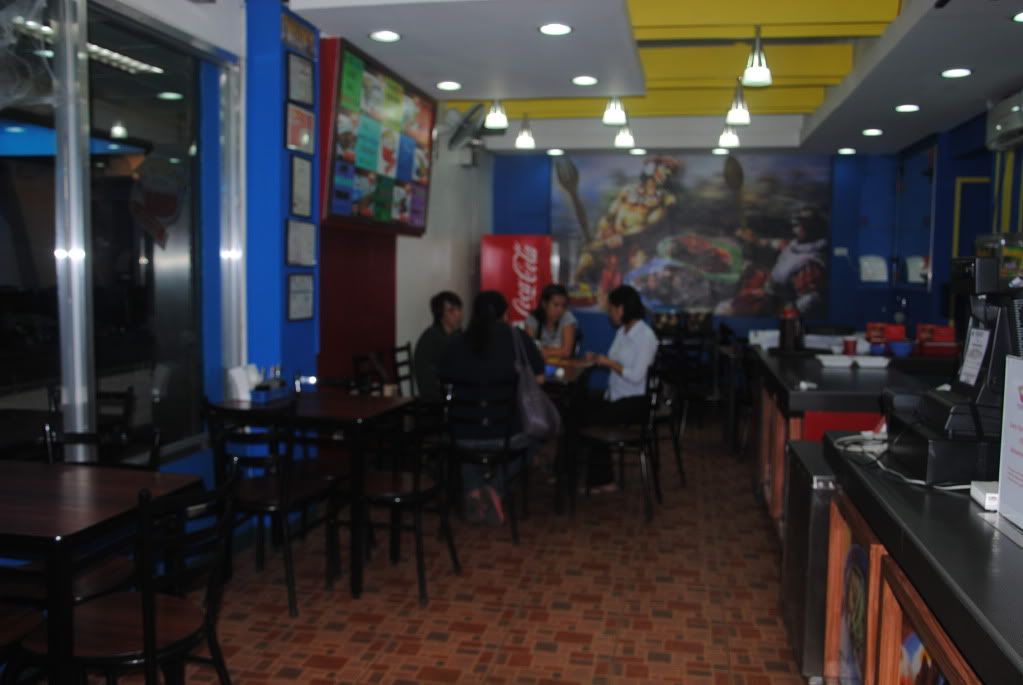 A few minutes later, Lisa introduced me to her partner, Mel who eventually sat and entertained me while I waited for my girlfriend and her friend. She also had instructed the staff to prepare our meal while we waited for them. For the time being, the staff offered me some iced tea and soup. The truth was that the atmosphere reminded me of Mang Inasal since they also serve the customers with soup minus the iced tea. I took a sip of the soup and found it delicious. Compared to the soup that you get from Mang Inasal, it was not that sour. Not that I didn't like how the soup in Mang Inasal was made. Both have their own merits.
Mel further explained that Pinoy Masters Grill used to have a branch in Sangandaan which was near where I currently live but management decided to close it down in favor of opening the one in Lagro. She also asked my contact details so she could get in touch with me and invite me for the grand opening of the Lagro Branch. Mel added that they intend to give their customers a more pinoy feel but referring to their customers as "kuya/ate" as oppose to the traditional "sir/mam".  It was around seven (or so) when Liz and her friend, Rhona, arrived and after a few moments, dinner was served. We had inasal chicken legs and I decided to eat so I can enjoy the meal while it's hot. I poured some chicken sauce on my rice which I also normally do when I am dining in Mang Inasal.
One of the owners, Mike Tan eventually arrived and greeted us with a warm welcome. What's funny and admiring is that he didn't beat around the bush and asked us straight away if we're thinking that their place is similar to Mang Inasal. The reason behind that was because he used to work for them a long time back. That explains why the set up was familiar but then again, he proudly boasts that they have a better chicken than Mang Inasal due to the quality of their chicken. He explains that their chicken does not have much oil as compared to their competitor which can make you feel a bit sick for eating too much of the same food. I personally attested to that.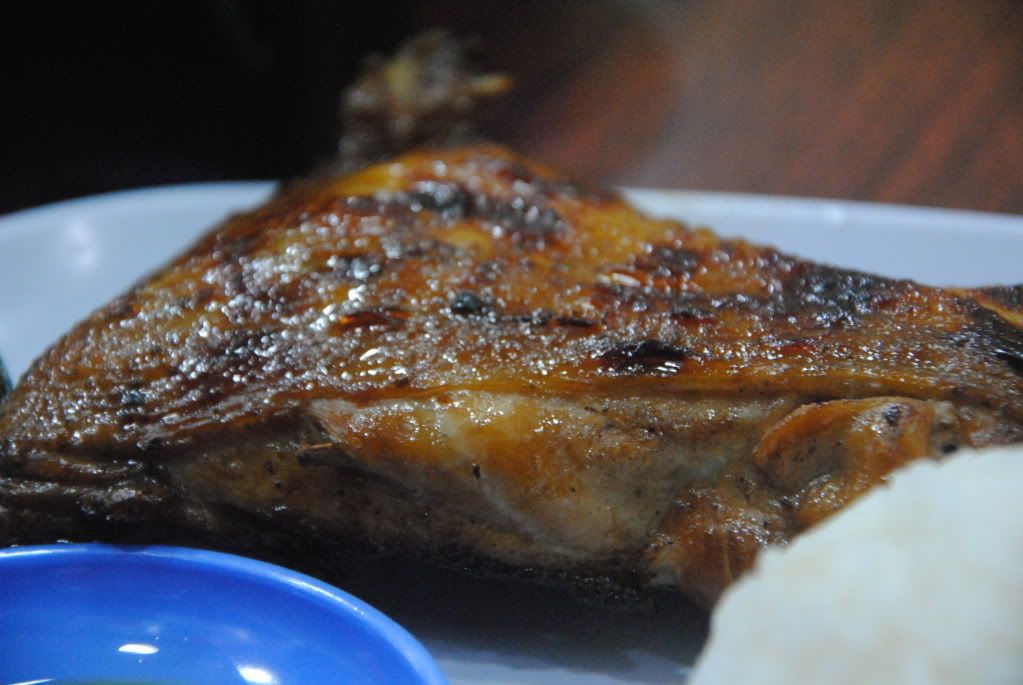 I  added that I tend to experience that feeling after dining in the aforementioned fast food. Which was one reason I was not that fond of eating there however, Liz and I are different when it comes to that since Liz still enjoys eating there. Furthermore, he's also proud to say that their liempo does not have much oil when you eat it, which is actually true after trying the liempo served on the table.
He even shared that their staff occasionally buys their own chicken meal because they like its taste. Another thing Mike was proud of is that their chicken would still taste good even if it has been a few hours that passed before you ate it. I forgot how it came to be that he gave us his own mixture of saging con yelo which I initially refused telling him that I don't really eat any similar food. But then again, he insisted and gave me, Liz and Rhona his sample. He also shares that he really wanted to have a talk with us so he could dissolved any wrong ideas about his establishment that we may probably think of and how he regularly checks his staff's performance. He later pointed at the table located at the far end of the establishment where a couple of plastic containers were placed. Mike proudly exclaims that he does not mind his customers seeing the prepared chicken in his establishments because he is confident that the food he prepares for his customer is clean unlike other establishments out there which you do not even have an idea of how they are being prepared or delivered. He also mentioned that his customers can also attest to the quality of their food which he is also proud of.
After a few moments, our Saging Con Yelo arrived and we tasted it. He advised that it would taste better if we mixed it well which I did. Though I don't have the means to make any comparison since it was the first time I really made an effort in eating such a dessert, I can honestly say that it tastes good. Moreover, you will eventually appreciate the taste of milk in it once you are half-way in eating it.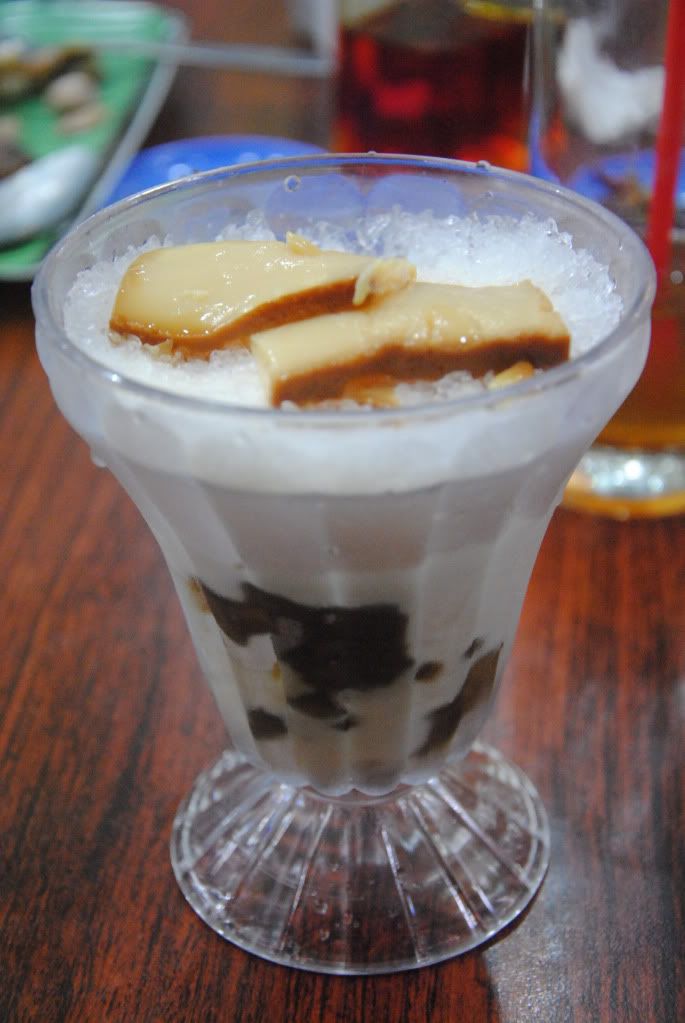 Unfortunately, I was unable to finish it because I later felt cold. I did mention that I easily experience being cold. Seeing as I was cold, they had one of the fans turned off which I appreciate. Mike shared a lot of interesting stories about his previous experiences while I on the other hand kept asking for more soup which I often do. In between the conversations, I occasionally point out my observations such as them using only natural ingredients in terms of cooking their soup since the soup's color shows it as well as its taste. And that I did notice that their chicken did not get me to feel sick of it or anything nor did it have too much oil in it. I mentioned that I cook at home and was familiar with the taste of Sinigang especially if there were any artificial flavoring added to it. However, as much as we wanted to stay and talk more, Liz and Rhona still had a shift later that evening. Before we left, Mike had me take home my left-over meal since I was not able to finish it which Liz and I attested as something that is normal of me. He tells me that I should try eating it when I get home and tell him if it still tastes the same and or if it has become bad. I explained that I am more of a rice person and I often get full before I am even able to finish off my chicken. And this applies to any establishment where I order chicken as a meal.
We bid farewell to Mike, Lisa and Mel and I accompanied my girlfriend, Liz and Rhona to get a cab since it was already 9:34 when we left. They're hoping that they can make it just in time for their ten o'clock shift. As soon as they were able to get a cab, I went on my way. Overall, I'd say that it was a great experience. I remember telling Mike that the next time me and my girlfriend go to play in OHS, we'd go there to have dinner and I'll have my Tinola which was my favorite. I can really say that they may be able to rival other similar establishments, not to mention the fact that they have more food options in their menu compared to their direct competitor. Of course, it would still take them quite a while before they are able to make it big but I sincerely wish Mike and his staff the best in doing so.