It was around 9:00 in the morning when me and Liz got up and we knew that we won't make it in time since the meeting time was around 11am to 12pm in Mall of Asia. Unfortunately, we've been so busy with a lot of our personal and professional affairs the week before that we didn't have the opportunity to prepare that much for the Otakustreamers.com Christmas Party which was scheduled on December 16, 2012.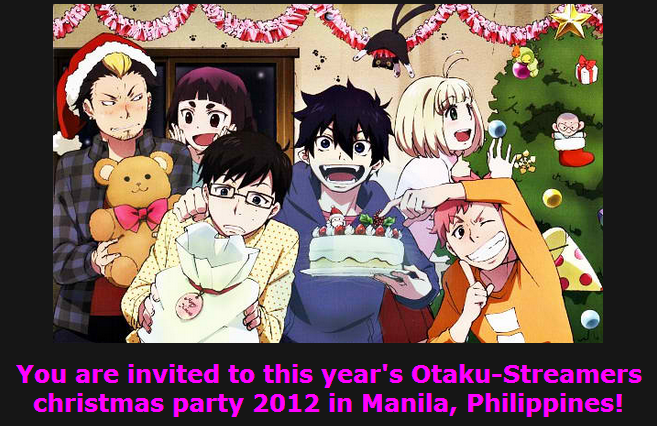 So what we did is that we compressed those activities past midnight of December 15th, which was already technically the 16th. It took us like a couple of hours shopping for gifts and when we got home, we also took the opportunity to schedule a massage session in Sparenity, which was a recently-established massage parlor here where I live. I think it was around 2:30 when or so when we finished? Or was it 3:00? Anyway, when everything was said and done, we had some midnight Lucky Me pancit canton meal which we occasionally do.
As Liz was busy wrapping up the gifts, I was preoccupied sorting out our Magic: The Gathering cards. It's been two months or so since we last participated in a tournament and we plan on being active again hopefully this coming January. It was almost 6:00 in the morning when we finished with what we were doing and I was already worried if we'll be able to get up as early as 8:00 though we doubt that.  Moving forward, the next morning,  we decided to stop over at SM San Lazaro to pick up some food for our share in the Christmas Party because apparently, PMG or Pinoy Masters Grill, which was suppose to be the establishment where we were planning to get our food was closed during Sundays. So instead, we were left with the option of getting twelve pieces of Red Ribbon's buttered mamon which by the way is a favorite of mine. Right after getting the goodies we immediately took off and hailed a cab.
We're lucky that the cab was fast enough to get us to our destination, not to mention that there wasn't much traffic, probably because it was a Sunday morning. While on our way, we decided to call Jeiru01 or May, who was one of the Otakustreamers.com Christmas Party organizers as well as an Otakustreamers.com moderator, to ask her if we can still make it or just go directly to CCP instead. The good news was that we can still make it because they are still waiting for some more people. The bad news was that there are already a couple of them there waiting and knowing that didn't quite sit well with me. But it can't be helped and I admit my shortcomings on this. Before arriving there, I decided to wear my Firmo sunglasses which me and Liz got as payment from one of our clients who ordered a product review of it. It was a bit sunny that morning and I thought that wearing it would complement my outfit which was a white polo shirt which has a bit of a long sleeves that can be folded up to the elbows. But then again, it was primarily to hide any physical signs on my face that I lacked sleep real bad.
It was almost noon when we got there and good thing that we didn't have to look for the rendezvous point since the cab dropped us off somewhere near. It took a while before we got to meet the gang waiting just outside the Starbucks Coffee Shop located along Pacific Drive and Ocean Drive Mall of Asia first level inside the main mall.
When we entered the premises, we saw a moderate-size group of teens hanging out just outside the establishment and though we already had our suspicions that they may be the people we're suppose to meet, I decided to text again. One of them, a petite young girl with fair complexion having bun-tied hair, wearing a light blue shirt with leopard patterned sleeves and collar complemented by a pair of jeans walked away from the group and took a peek outside the main entrance while checking her phone. Seeing this, my suspicions were confirmed and I decided to approach the girl "Jeiru?" I asked and when she turned to face me, I extended my hands for a polite handshake and went back to the group. I introduced my girlfriend Liz to her while she introduced the other moderator and organizer of the Christmas Party, Robin, though known in OtakuStreamers.com as Kobowo. We also got acquainted with Aila who was also another Christmas Party organizer and if I am not mistaken, she was the one who gave me and Liz our OS stickers. Though at the time this entry was finished, she said otherwise but sadly, I can't remember who.
Afterwards, I took this opportunity to excuse myself to go to the washroom so I could relieve and fix myself. At the same time, Zura, who was also another Otakustreamers.com member, contacted me through my mobile asking me if it was okay for him to give my number to Lance, another Otakustreamers.com member although at that time, I only knew him in his username which was Reivacks. I gave him the go signal and later on, Lance was calling me up but since I didn't have any idea of where we will be specifically having our picnic in the Cultural Center of the Philippines or CCP, I had Robin talk to him instead. Had to admit that we had a bit of difficulty carrying our luggage since Liz had her DLSR with her, plus we're carrying not just our gifts for the other OS members but as well as the gifts for the next Christmas party she will be attending that day. Not to mention the food contribution that we also have and our personal things. Though a female member named Menisa, was nice enough to offer assistance, we humbly refused it since it would be too much of a trouble for her. The good thing was that an Otakustreamers.com member, Untoldlegend, the tallest of the group, sorry, I forgot his real name, had his car with him and the ladies were offered the opportunity to ride with him. At the same time, he also offered to have our things, the gifts and the food contributions be placed on his car for the time being which everyone gladly obliged.
After Untoldlegend had left with the ladies, we, the guys, decided to ride the public transportation available in MOA which was en route to CCP. Not sure what time we got to the location. The place where the group has decided to hold the picnic is not actually within the CCP structure but rather, in the CCP open grounds which were located just across the street. It was a wide area place having many trees as well as cemented ground.
And in my opinion, it is one of those places where it's good to have a picnic. However, dark clouds seem to gather above us and we're having a feeling that it's going to rain later on. They laid out a big black platform which I am unsure what is made of and put the foods and the gifts on it which we later dubbed as our "offering to the gods" of the woods which they played around with. We took a picture of another member, Dejavu, standing with both his hands extended away from him as if he was accepting the offerings in front of him.
Afterwards, Aila and Robin decided to start with the introductions. At first everyone was hesitant to go up first but later on, they introduced themselves by sharing how long have they been members in the forum, as well as their usernames and the color of their usernames and titles that they are known for, one by one and I admit, I wasn't able to catch everything. Liz was actually surprised that a member by the username, Mlcdl or Lester, found her familiar and as one of the Otakustreamers.com donators or OS VIP.
After the introductions, Robin and Aila went ahead with starting the first game of the day which was the OS bingo game. The instructions were simple; we go and have the other members write their usernames on the space provided on the papers that we were given. Just imagine a piece of clean bond paper having eight boxes and an "X" mark at the center. Once we're done, Aila drew out pieces of papers with the members name on it and then whoever got the names written on their papers, then they mark it. Once they get to fill out everything, they win the game. During these moments, Robin was busy giving Reivacks directions on how to get to us through my mobile so he wasn't able to join us as far as I remember.
And the funny thing was that Liz won the game so she gets the privilege of choosing one of the "offerings" to keep for her own. Two other members won next though I no longer remember who they were. Liz winning was very timely because it was already 2 in the afternoon at that time and she already needed to leave since she has another Christmas party to attend to in SM Megamall. Though this time, it's their company's Christmas party. Furthermore, it was also at that time that rain started to fall so the group had no choice but to pack up their things and find shelter. Not sure though if Lance was able to make it in the Bingo game or what but anyway, he did make it before the rain so he probably made it in the game. I immediately took out my umbrella and accompanied Liz in getting a cab. Afterwards, I followed the rest of the group to shelter ourselves from the rain under the waiting shed of a Max Fried Chicken restaurant before moving next to a Kentucky Fried Chicken establishment which was close by. Thanks to the downpour, we weren't able to enjoy the foods that we brought along with us so we were forced to have lunch in KFC instead. Though it wasn't much of a bad idea, it kinda spoiled the mood of the group in having a fun picnic.
We stayed at KFC for the time being while we waited for the rain to halt while devouring the Creepy Crème, err, I mean, the Krispy Kreme donuts that the other members brought. At that time, we were joking around that whoever gets the colorful donut should be a clear indication that he is part of the Federation Army if you know what I mean.
I think it was around three in the afternoon when the rain finally stopped or at least lessened. Sadly, Ishimaru Shun had to leave at that time and though he left early, as well as Liz, they were replaced by two new members who arrived, Debie and her younger sister, Kristine, Freykens and Petal respectively. We went out of the fast food chain and headed back to where we were supposed to stay before it rained. While on the way back, we took a peek at the bay area and looked at the nice view as well as the yachts anchored in the bay and the vast the body of water was from where we were standing. Looking at the vast horizon was a bit of a breath-taking moment for me.
However, it started to pour again and seeing that the two new comers, Freykens and Petal don't have anything to cover themselves with, I lent them my umbrella instead and I decided to use my black jacket to keep myself from getting wet. The good thing was that the Max restaurant was not far away from where we are so we decided to take shelter there again. This time, Aila and Robin were already considering of postponing the event and rescheduling it to some other date because of the unfavorable weather. Though everyone agreed to have it rescheduled, the good thing was that the time we took discussing it was enough time for the down pour to stop and this time, it seems that the rain has finally stopped for good. Before going on our way, I politely took my umbrella from the two ladies just to make sure that I'll have something to use when the day ends, in case it rains again.
As soon as we got back to where we started, one of the members, Ninjen, bid farewell next. His school was requiring them to watch this certain play and as much as we wanted him to stay, he declined. I was even joking about taking his wallet before setting him off just so he wouldn't go. Which reminds me, there was also another member, Pontil was his username, who was supposed to go home at that time but me and Aila convinced him to stay up until five o'clock? Or so we said. Anyway, that will be for later. Going back, ah, there, Aila and Robin started to organize the second game of the day which was locally called Dr.quack quack or the Duck game. The premise of the game is that a group of people would form a circle and hold hands together and try to entwine themselves in whatever way they can. At the same time, while they are doing this, a second group of individuals will have to turn their back so they wouldn't see how it was done and once the first group is done entwining themselves; the second group would have to disassemble the first group.
Everyone enjoyed playing the game and once we were done with it, we took a short break while the organizers were thinking of what to do next. At that time, I was wondering where the nearest washroom could be so I had to ask Robin where it was. He instructed me that there is a building at the far eastern side end of the road from where we were and to go straight inside until I see a stage and to make a left turn where there was a signboard with the words "Ginoo" or "Gents". So I went there and he was right. There was a building called "Bantayog ng Panginoon" or The Statue of the Lord is what Google translate gave as a translation though it kind of seems off since it was a structure and not a statue. Nevertheless, when I got back, they were already discussing about a skit that we are suppose to do at that time. Leonx2, or Lester was assigned by Rob and Aila, to be the one to choreograph the dance number for team two which consists of me, Bloody Envy or Teren, Freykens, Menisa, Dejavu, Jason, and err, I forgot the rest. Gomen nasai. On the other hand, the second group which was led by Aila, was assigned to choreograph the Pokemon theme. Their team called Team Mang, consists of Meagan or Vectorplate, Untoldlegend, Mlcdl or Lester, Kurtherror, Pontil, Petal and three more that I am not that familiar with.
Apparently, our team called Teamba, was well, so "motivated" if I may say so, to perform the whole dance steps that's why we ended up dancing only up to one minute or so while the other team was able to complete their performance. Afterwards, I thought of needing to fix myself so I decided to go back to the "Bantayog" and at the same time, some of the other members were also asking where they can relieve themselves so I had them come with me to where I was headed. Once we got there, we we're joking about the place and after getting back, we were like asking them if they were interested to go to the "Bantayog ng Panginoon" and the rest were just raising their eyebrows looking dumbfounded at what we were talking about. At the strike of five in the afternoon, Pontil went home next since that was the initial agreement with Aila although we were tempted to try to convince him to stay for a few more hours.
It was already evening at that time and it didn't take long before Leonx2 or Lester introduced a new game which they didn't reveal until the actual game. At first they were looking for volunteers who would gladly demonstrate how the game was played at the same time asking the questions; Girl to girl, Boy to Girl or Boy to Boy. However, no one was willing to stand up thinking that it may be some evil ploy of some sort. Then I saw them, him and Moderator Robin holding this box of Pocky and for a moment, I had an idea of what the game was all about plus based on their question and I can't help myself laugh at the thought. A few moments later, a few members volunteered and the game was then demonstrated. The premise of the game is that two people, in this case, two guys would put the same Pocky cracker inside their mouth, one guy for each end. If you don't have an idea what a Pocky is, then think of Pretzels. Then imagine that one end is bitten by another person the same as with the opposite end and they have to gradually eat through it so basically, if they're not fast enough or careful enough, then yes, that is correct Watson, they will end up kissing each other. Yes. Boys will end up kissing each other. It is basically a Yaoi-kind of game and just Google the term Yaoi if you're not familiar with it. And no, don't ask me why they thought of doing such things. I don't have any idea as well.
Until eventually I decided to volunteer to join in the fun with me and Moderator Rob being the contestants for this devious game. Long story short, I am not sure what happened but somehow, I think I kinda pulled back just in time before our lips touched. Anyway, I ended up getting a Pocky as prize, probably for my active participation and from then on, some of the other members have become more motivated. Not sure why but maybe because of the prize. I mean, hey, if you see the organizers holding a plastic filled with boxes of Pockys wouldn't you think twice of playing a game or two? Especially if you're likely getting one box for FREE and you just have to be well, courageous in participating right? Of course, unpleasant accidents happen but it's not like you lost your virginity right? Well, maybe your lips' virginity but otherwise, you still have your dignity intact. Haha.
After a few moments, we rallied the guys to try to convince the girls to do a Yuri in turn, basically, participate in the same game but this time, it would only be girls to girls. And we got our eyes on Aila and I think it was Meagan? Anyway, she was refusing to join in the fun and we were all like telling her that she was a kill joy and so on. Then Aila asked us guys to do it first and I took a Pocky stick out of the box that leon2 was holding and told her that if I did it, she should be sure to do it after. Sadly, she refused and the guys and I let out our sigh of disappointment. It could have been interesting. So much for our anticipation though.
We were supposed to play some Cops and Robbers game but sadly, they didn't push through since the group was already exhausted and hungry. Shucks. I missed playing that game! So, we decided to have some much needed nourishment. Pizzas, Pancit Palabok and some what was it again, I forgot what's that food called oh, puto and some orange juice for the evening. And since we're already having our evening meal it's unlikely that we'll be going for any more games. We spent the remaining time together by chatting about anything under the sun, or in this case, under the moon except that the moon's not visible at that time due to the thick clouds in the sky. Before long, we cleaned up and had our exchange gift. I got a power card load from Aila which I am thankful for and I appreciate since it can come to good use if in case I find myself in Timezone one of these days. Liz on the other hand got her share as well from Jason. She got a neat small bag and a white cap.
When we were done exchanging gifts, people decided that it was time to end the evening so everyone went to Untoldlegend's car to get their personal stuff. However, they didn't want to end the day without taking some nice group pictures and since the lighting was not that favorable in where we were, we decided to cross the street and get our pictures taken in a brighter area. Sadly, the light was still insufficient so the photos we had were not that clear and unfortunately, there were no other closer place for us to go to anymore to take better pictures. After bidding farewell to Robin and May and the others who decided to head back to Mall of Asia, me, along with Aila, Lance or Reivacks, Freykens, Petal, Bloody Envy, and the rest of the gang took a ride heading back to Vito Cruz LRT station. Once we got there, the group split up into two; those taking the LRT but are headed to Edsa and the next group consisting of me, Aila, Freykens, Petal, Mlcdl, and Bloody Envy, heading the opposite way with Mlcdl being the first to drop off, followed by Aila and Teren then me. Freykens and her sister Petal, on the other hand are the last since their drop off was still at Roosevelt, which was the last station on the other side of the LRT terminal.
I already got home around eight in the evening or so if I am not mistaken and since I was no longer feeling that well, thanks to my bad colds, exhaustion and lack of sleep during the last few days, I decided to take some medicine right away and sleep for the day. But overall, it was still a fun and memorable experience. It has been a while since I had that much fun especially that I've been preoccupied with a lot of things during the last few months. It's just unfortunate that Liz was unable to stay longer. I am sure she'd also enjoy it as much as I did, not to mention the games and the food. Its 1:29 in the morning right now as I wrap up this entry and I am just listening to some classic Uchuu Keiji music and it's a bit cold due to the rain. After this, I'll be having my dinner and yes, you read that right. Thanks to my US-time zone sleeping pattern, I usually have my dinner around this time or a bit earlier. Well, I think that's all for this entry. I'll be getting back with more entries in a day or two about how my year went. Well, hopefully, I can get it finished before the year ends. For the meantime, have a nice day!
image credits:
Lizzie Dee
Jason Guillermo
Kristine Orcine Juan
www.waymarking.com
123.rf.com – alarm clock
afodltd.com – lucky me
simplyannes.blogspot.com
collider.com
guardian.co.uk
wptv.com
traveltothephilippines.info
sodahead.com
pinoydaysleeper.multiply.com